Originally from Australia, Wendy Dek began training horses at a very early age. She didn't own her own horse until she was 21 because she was always given horses to ride that were being a problem for their owners.
At age 14 Wendy began riding track work for a local racehorse trainer – the year was 1974 and women were not readily accepted in the racing scene. However, Wendy stayed with it and applied for and was granted a trainer's license in 1981 and became the youngest woman to be granted a racehorse trainers license in Australia.
In 1976, Wendy also began her career as a Veterinary Nurse (Technician) a career she enjoyed for almost 40 years.
Although Wendy always had dogs (and lots of other animals) while she was growing up, there was never any formal training done with them and from what she can remember, there didn't seem to be a need for it either. Then along came "Jedda".
"Jedda" a Doberman puppy with a mind of her own – was the reason Wendy became involved with Dog training. She started attending classes at the local Dog Obedience Club – at that time, dog training was all based on compulsion, the use of choke chains, pain, fear and intimidation – these were all methods that she wasn't comfortable using since the horses that she was training were all being trained using "Force Free" Reward Based training methods. She did complete the Obedience Instructors' certificate but developed her own style of training and volunteered her time at the local R.S.P.C.A shelter for 10 years prior to moving to Texas in 2001.
She also developed a "Force Free" Puppy Program and used these teaching methods to conduct "Puppy Pre-schools" at Veterinary Hospitals in her area.
For 12 years Wendy worked as a trainer for "Paws with a Cause" a non-profit organization that trains service dogs nationally for people with a wide range of disabilities and special needs. She enjoyed using her abilities to help these special dogs bond with their new owners and open up a whole new world of confidence & independence for them – changing their lives forever – this is an organization she still strongly supports but now in different areas.
In Oct 2010 Wendy's training techniques & skills were assessed by Victoria Stilwell (It's Me Or The Dog). Wendy is proud to have been invited to become a part of Victoria's World Wide team of Positively Dog Trainers.
Wendy is the first trainer in the Dallas/Ft. Worth mid-cities area to be certified and licensed by Victoria, and believes that there is no room nor reason to use pain or punishment in dog training.
Wendy has been conducting Puppy Pre-schools and Obedience classes since 1989 and continues to update her training skills and knowledge through continuing educational seminars and tutorials.
"The most rewarding part of being a dog trainer is being able to help owners build a great relationship with their dog and repair relationships that have been broken."
About Lori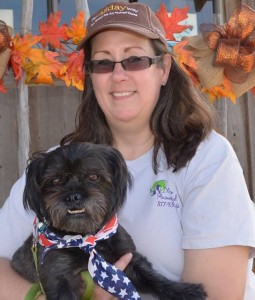 Lori grew up on a dairy farm in Minnesota. When the family was wondering where she was they knew to find her wherever the dogs were. In fact, that became the answer to the question, "Where is Lori?" Answer: "Where are the dogs?" In addition to the farm dogs, there were many cats, dairy cows and calves, chickens, ducks, geese and a pony.
Lori has had many dogs as pets and she seemed to understand them from her lifetime of exposure, even before professional training. Her husband, John, calls her a 'dog whisperer' as she seems to get the dog's cooperation without compulsion. In recent years, Lori studied dog training in order to learn more about dogs and how to get them to understand their role in a well-ordered home. In Summer 2012 , Lori met Wendy Dek, who was the Mentor Trainer Lori chose for an externship to complete her formal training and obtain her certification with Animal Behavior College.
In addition to dog training, Lori works at a Veterinary Hospital receiving patients and puts to use her dog training skills for the dog's "parents" assisting them in establishing the rules of the household. Oftentimes in this environment, Lori has the opportunity to assist families with dogs that have challenges in understanding their role in the people world. Many of the dogs she has taken part in training are shelter rescues. The reason they were in the shelter in the first place is the dog's inability to understand their role in the new home. Lori is effective in assisting people to understand what to do differently to get the results they want.
Lori currently has four dogs at home: a pit bull (Jenkins), a Shih Tzu mix (Chet), a Lhasa Apso/Pug mix (Chumiari) and a Chiweenie (Peanut). Lori says, "It is my mission to help every dog and their family to have the best relationship possible by not only teaching obedient behavior to dogs, but also by educating their people to understand what it is that their dogs want and need from them."
---
About Whitney
HELLO!! My name is Whitney Rae I'm a graduate of animal behavior college . I have a passion for helping pet parents and their dogs grow together as they Learn to better communicate.
I have three of my own dogs, a miniature schnauzer Named Brandy and two German shepherds named Kratos and Eri. I am currently in the process of joining a search and rescue team in hopes of being able to teach my dogs to save lives.