Mutt Makeover offers reprieve to lucky shelter dogs across Dallas-Fort Worth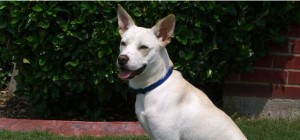 Dallas Morning News – By KATIE SIMON Staff Writer
Published 30 April 2011 10:34 PM
Luck is a word rarely used in conjunction with shelter dogs, which have a greater likelihood of being euthanized than finding a home.
But not Lucky.
Rescued from a Fort Worth shelter, the blond-haired Labrador, pit bull and blue heeler mix was given a second chance, competing in the Humane Society of North Texas' first Extreme Mutt Makeover in 2009.
This year, a new group of dogs will be given the same opportunity Lucky got. Beginning next month, 15 lucky canines will be chosen from a variety of North Texas shelters to participate in the third annual training and obedience competition.
When Lucky's owner, Wendy Dek of Hurst, began training her, the dog was skin and bones and had "almost shut down." Six weeks later, Lucky sprang back to life.
"She was jumping through hoops and going through tunnels," Dek said. "She decided this whole training stuff was pretty fun."
Each competing canine, chosen based on health, temperament and general adoptability, is assigned to a trainer who has less than two months to fully transform the canine pupil from a hopeless orphan into an obedient, trick-performing, lovable pet.
"We give them six weeks, and get a dog back with all these great attributes: courage, obedience, agility and great tricks," said Patti Colbert, executive director of the Mustang Heritage Foundation and founder of Extreme Mutt Makeover. "It gives great value to the dog and shows the world that these dogs are very trainable."
Lucky ended up placing second in the 2009 contest, but the real happy ending comes when the dogs go home with their new owners. In Lucky's case, Dek couldn't bear to part with her and used the $300 prize to adopt the dog.
In addition to the contestants, more than 60 other dogs were adopted during last year's competition, "an incredible amount for one day," said Sandy Grambort, the equine/livestock coordinator for the Humane Society of North Texas.
Colbert created Extreme Mustang Makeover in 2007 to help horses that were deemed not adoptable. But she realized she could do more, so she proposed the Mutt Makeover to Grambort.
In the first year, the humane society teamed up with trainers and volunteers to place 10 dogs facing euthanasia in new homes.
"We learned a lot, and we gained a lot of interest and had a lot of trainers apply," Grambort said. "I don't think there was a dry eye in the house during that competition."
Two years later, the competition has expanded to include 15 trainers and 15 dogs from shelters all over the Dallas-Fort Worth area.
In September, the mutts will strut their stuff in a three-part competition, which includes basic obedience, an obstacle course and any additional tricks the dogs picked up along the way.
As part of the competition, trainers with winning dogs receive prize money after the votes are counted. Trainers agree, however, that it's the dogs that matter, not the money. "Winning was wonderful," said Karen Deeds, whose black lab Tess won first place in 2009. "But it was not about us. It was about those dogs and the people whose lives they changed afterwards."